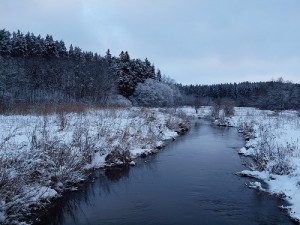 When's the best time to buy a boat?
Despite what you might think, it's not the summer. It's actually winter, when the snow is rolling in and the weather is getting colder.
It's simple: demand for boats is low in the winter. Who wants to buy a boat they won't be able to use for 6 months? As a result, smart buyers know that by purchasing a boat in the winter, they can save a lot of money—even if they will have to wait a little while to use their new toy. The same is true with motorcycles, convertibles, and other seasonal equipment.
Did you know it's true for windows, as well?
Believe it or not, the winter is a great time to start looking for projects for your home. That includes upgrades you might not expect, like new windows or siding.
Many people have questions about the logistics of installing windows when there's freezing weather outside, but it isn't as complicated as you might think. There are no huge gaping holes left in your home for hours, no snow breezing through the living room.
The windows we install are custom-fit to the opening. The old window is loosened and removed, the opening is cleaned up, and the new window is slid right back in and installed with materials rated for cold weather. If it's in a bedroom or other room with a door, that door will be shut. All told, the window is out of the opening for maybe a couple of minutes.
The same is true for siding—there's no reason you can't install siding when it's cold out. Nothing inside your home is affected, and in fact, we're actually adding more insulation to your home when we install it.
The best part about installing new windows or siding during the winter is that you can actually purchase your upgrades in the winter, get winter pricing while demand is low, and not have it installed until the spring if you want to wait! In that situation, you get the benefits of winter pricing and you don't even need to have the install done when it's cold out.
If you're thinking about upgrading your home with new windows or siding, think like a boat buyer. You may not think that winter is the ideal time for purchasing or installing new home upgrades, but it's actually an opportunity to save money and get ahead of the game long before warmer weather rolls around.
Thinking about making the jump and purchasing new windows this winter? Reach out to us via our website's Contact Us page, where we'll put you in touch with an expert who will identify exactly what you need. We're also available on Facebook and on Twitter @OmahaDoor.
—
photo credit: Memories of Christmas 2014 via photopin (license)