Omaha Door & Window Company has an outstanding selection of entry doors to choose from. You can select from ProVia Door and Jeld-wen® Entrance Doors to find a quality entry door at a competitive price. We also have Specialty Glass Products and ODL Handcrafted Glass to offer a wide choice of decorative glass inserts to customize your entry door. Omaha Door & Window offers installation, remodeling and removal of old doors by our experienced installers. Let our professional sales staff answer any questions you may have and help you select the perfect entry door for your home.
Commercial Hollow Metal Entry Doors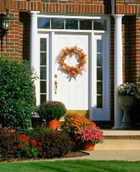 ProVia Door has been making a complete line of quality steel entry doors, fiberglass entry doors, sidelites, and patio doors since 1977.  Their entry door systems include a wide selection of sidelites and transoms that are available in clear or decorative glass, and offer a total of 24 different paint colors and finishes.
Why Buy a ProVia Door System?
Beauty  – You never get a second chance to make a good first impression.  A beautiful ProVia Door System will always greet your guest with classic elegance and style!

Durability –  ProVia Door takes pride in delivering entry systems of top quality construction, made with the finest materials, and backed by a Lifetime Limited Transferable Warranty.

Security – At ProVia Door, your security and safety is their concern.  That's why they've reinforced their lock and deadbolt areas with commercial gauge steel.  The 20-gauge steel security plate ensures you a level of security not found on other residential doors.

Energy Efficiency – At ProVia Door, energy efficiency is now more important than ever.  That's why ProVia offers energy systems that are Energy Star qualified.  Not just some of their entry systems
all of them!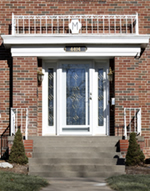 ProVia Door Types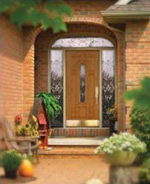 ProVia Heritage™ Fiberglass Doors
The elegant Heritage™ Fiberglass Door is available in a wide variety of embossed and flush designs. Sidelites and patio doors are also available in the Fiberglass program to meet your entryway needs. This product features enhanced wood grain texture, improved definition embossing, and a superior oak edge design to prevent warping.
ProVia Heritage™  Fiberglass Features
New Variable-Depth Wood Grain Texture
High-Performance Fiberglass & Hardwood Door Beauty
High-Definition Panel Profile
True Square-Edge Design
Internal Blocking at lock area
Solid Oak Laminated Styles
Rot-Resistant Bottom Rail
Heavy –Duty Ball Bearing Hinges
ProVia Legacy™ Smooth Steel Doors
The Smooth Steel Doors are available in 20 and 24-gauge steel in a wide variety of embossed and flush designs. Sidelites and patio doors are also available in our Smooth Steel program to meet your entryway needs.
ProVia Legacy™ Textured Steel Doors
The Stainable Steel Doors are available in 20 and 22-gauge steel in a wide variety of embossed and flush designs. Sidelites and patio doors are also available in the Textured Steel program to meet your entryway needs.[/vc_column_text][dt_gap height="20″][vc_column_text]
ProVia Legacy™ Smooth 20 gauge Features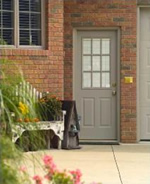 Superior polyurethane core with 15.0 R-value
Hot-dipped galvanized/annealed all steel construction for additional strength and durability
Special thermal barrier adhesive along the edges reduces heat and cold transfer
Tab and slot mechanical interlock for exceptional structural strength
Commercial grade steel lock box reinforcement for the lockset and deadbolt area
7-Gauge steel hinge reinforcement
49% more steel than a standard 24-gauge steel door
Galvanized coating is 433% thicker than B-class electro-galvanized steel
Lifetime Limited Warranty
ProVia GLASS STYLES
ProVia Door offers a wide variety of glass styles ranging from clear glass to 15 collections of decorative glass to accent any entryway.
ProVia 20-GAUGE STEEL SECURITY PLATE

ProVia Door full wood frames come standard with a 20-gauge security plate for the wood frame to provide extra strength and to help prevent kick-ins.  (Security Plate is optional on 24-gauge products.)
PVC Vinyl Coated Aluminum Full Wood Frame Cladding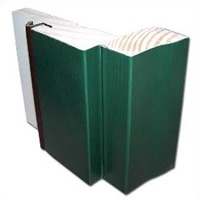 Pre-fit Cladding is worth the small investment…
Protects better than paint which can crack or blister, leaving the door frame susceptible to warping and rotting.  This option may be added to any full-wood-frame ProVia Door unit.
Maintenance Free… 
The vinyl coated aluminum is easy to clean and eliminates the need for scraping and repainting the wood frame.
Stays Beautiful… 
Year after year, the clad frame looks beautiful because it's durable, weather resistant, and comes in your choice of fifteen versatile colors.
Factory applied… 
Pre-fit cladding is pre-measured at the factory, which guarantees a clean, precise, protective fit.
Finished Interior…
The inside door frame is painted to match the inside color of your door for a clean, finished appearance.
ProVia Entry Door Hardware & Accessories
Like a fine piece of jewelry, ProVia's hardware and accessories enhance the beauty of their entry systems.  Choose from a wide selection to complete the perfect entry system for your home.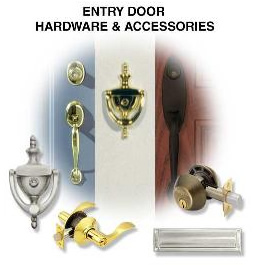 ProVia RETRACT-A-SCREEN™
ProVia now offers a Retractable Screen System for those applications when you don't want the visual interruption of a conventional screen door.  This unit provides ventilation without obstructing your viewing area.  10-Year Limited Warranty on all parts (except screen mesh).
ProVia Finish Colors
ProVia offers Exclusive Door Finishes in13 paint colors and 7 stain choices backed by a
7-YEAR WARRANTY!
Actual colors may vary depending on your computer screen display.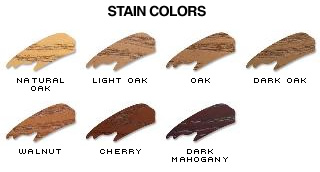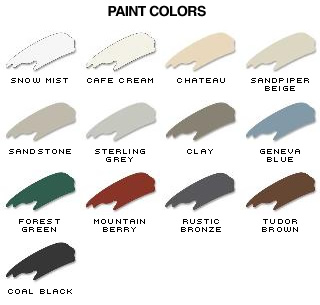 JELD-WEN® Gladiator Steel Door System

JELD-WEN® Steel Exterior Doors are created to consistently resist rust and corrosion. These low-maintenance doors are available with optional steel edges for greater security and fire ratings up to 90 minutes. Every collection includes door designs with coordinating sidelights for added visual appeal.
Steel Thickness – 25 gauge, galvanized, coated both sides.
EPS (Solid Polystyrene) Core
Finger-jointed Wood Stiles and Top Rails, Steel Bottom Rail.
Wood Edge.
12" Lock Block – 4lb. High density polystyrene
Standard Black Santoprene Sweep
Primer – Cream Color – 2 baked-on coats
Flush and Embossed Profile.
Light Inserts with High Performance frame.
Warranty: 10 years.
JELD-WEN® Fiberglass Entrance Doors
The Most Advanced, High-Quality Fiberglass Door on the Market Today! Jeld-wen® Fiberglass Exterior Doors reflect the beauty of wood and are easy to maintain in any climate—hot or cold, wet or dry.  Unique Engineering Results in a Door that is Built to Last a Lifetime.
Full-length composite stiles provide complete waterproofing for the door's insulation, an exclusive to the Jeld-wen® Fiberglass door.  These stiles will not splinter like wood or delaminate like steel.

The high-strength engineered composite bottom rail prevents moisture from seeping into the door.  This rail also allows the Jeld-wen® Fiberglass door to accommodate a large range of snap-on door bottoms.

Environmentally sound polyurethane foam core door is completely CFC-free to conform with U.S. environmental standards.  Advanced polyurethane core provides superior thermal performance and enhances the door's soundproofing.

Deep-profile compression molded fiberglass skins create stronger dimension, enriching the door's curb appeal.  The dent resistant skin has a superior durability over conventional steel skins.

Limited Lifetime Warranty on Jeld-wen® Fiberglass wood grain doors and a 25-year warranty on smooth skin doors.