Omaha Door & Window Co. specializes in commercial entry door replacement. Steel, stainless steel, wood, aluminum full glass, and special application doors are available. We can offer custom fabricating of doors and frames at our plant. New construction installations are available. We can repair or remodel your existing opening. Full service trucks that are available for 24-hour emergency service.
Click on the image of each product to visit the manufacturers web site

Ceco Doors
Medallion
Designed to take extreme people-punishment in schools, hospitals, institutions, and other heavy duty openings
Fire rating available up to 3 hours
Available in 18 or 16 gage doors with 22 gage vertical steel stiffeners
Fiberglass insulation gives a R-Value of 1.626
Doors are handed with a beveled edge
1-3/4″ (44.4 mm) custom construction
Full height edge reinforcement channels
Rated for heavy-duty to maximum duty use
22 gage steel stiffeners spaced 6″ apart, welded to face sheets every 5″
Fully welded edge seams available
Fiberglass insulation to limit thermal and sound transmission
Inverted end channels welded to both face sheets
7 gage (4.2 mm) steel hinge reinforcement
12 gage (2.3 mm) closer reinforcement
A60 Galvanneled or G90 galvanized steel
Steel end channel filler cap
Flush welded glass lite trim kits
Factory applied ColorStyle finish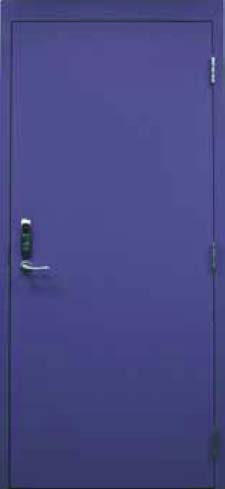 Legion or UltraDor
Legion is manufactured as a handed door with a beveled lock edge. UltraDor is a reversible swing, non-handed door featuring a square lock edge and a cut-through hinge preparation
1-3/4″ insulated full flush design 20, 18, and 16 gage steel
Rated for light to extra heavy-duty use
Polystyrene core provides insulation characteristics and resists impact damage
Core is chemically bonded to face sheets providing total surface support
7 gage convertible steel hinge reinforcement
Inverted end channels welded to both face sheets
U factor: 0.31, R factor: 3.23
STC 26 (sound transmission)
Fire label rated for use in 20 minute through 3-hour fire ratings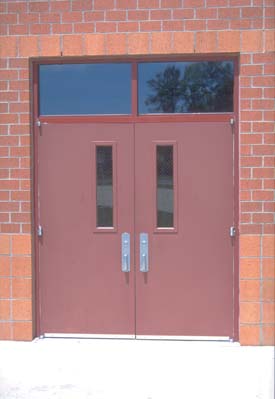 Versadoor
Non-handed and fully reversible on the job site, Versadoor can be used for right or left hand opening, swing in or out, single or in pairs
Flush design doors available in 20, 18 or 16 gage steel
Cold rolled or galvanized steel
Foamed-in-place polyurethane core provides high insulation
Decorative glass lites can complement the embossed patterns
Versadoor is available factory glazed with die-cast plastic trim and 1/8″ safety glass (1/2″ insulating glass optional)
"R" factor: Calculated value of 11.01 (ASTM C518)
"U" factor: Calculated value of 0.091 (ASTM C518)
"STC" (sound transmission class): 26
Most embossed designs are available from 2'6″ through 3'0″ widths and in 6'8″ or 7'0″ heights. Six panel designs are also available in widths up to 4'0″
Mortise lock preps not available in standard 2'6″ and 2'8″ widths
Full flush styles are available in all standard widths and heights
Full perimeter epoxy thermal barrier reduces conductivity energy loss.
7 gage hinge reinforcements
Embossed doors with Lite Kits are furnished factory glazed.
Full flush style furnished with metal trim kits for field glazing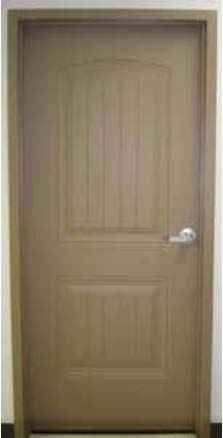 Omega
Honeycomb core construction
Nonhanded edge can be switched on the job site to right or left handed openings, swing in or out, or as double doors
A popular distributor door, suited for local conversions
Available in 20, 18 and 16 gage steel face sheets
Galvanized steel also available
Available with either cylindrical or mortise lock preparations
1-3/4″ thick full flush (seamless optional) styles
Available with 20 gage galvanized textured steel skins
"STC" (sound transmission class): 32
Impact resistant, full honeycomb core is sanded-edge
Crush strength is 45 PSI. Hemmed, smooth finish edges
Seamless edges available
Inside coated with waterproof adhesive for secure bond and rust prevention
Hinge reinforcement 7 gage steel (3/16″ plate)
Chemically treated for paint adhesion. Oven-dried baked-on factor primer
Patented mechanical interlock eliminates weld marks, adds rigidity
Inverted top and bottom end channels welded to both face sheets for added stiffness.
Optional steel closing caps available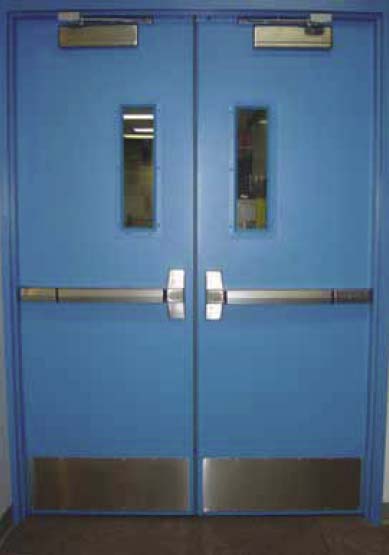 Stainless Tech
The best in Architectural quality stainless openings offering the designer significant aesthetic creative opportunities in commercial, institutional, or high style architectural environments
Available in 18 and 16 gage doors, honeycomb or urethane core
Some of the finishes available are 304 alloy satin or mirror stainless steel, 316 high corrosion resistant and Satin finish stainless steel
Tornado Doors are designed to endure tornado force winds and flying debris. Developed to resist missile penetration for use in buildings designed as shelters to protect occupants from injury. Successfully tested in accordance with the guidelines set forth by the Federal Emergency Management Agency.
Suggested Uses:
Disaster and Tornado Shelters
Storm Shelters
Community Shelters
School Shelters
School "Safe" Rooms
Residential "Safe" Rooms

Ceco Frames
SU
Standard 16 gage Steel Frames used for Masonry, Wood or Metal Stud Walls
Optional 14 gage or galvanized steel available
Available in hundreds of stock profiles and dimensions
Available in knock-down or set-up and welded
Precision die-cut corners with positive lock tabs to assure rigid assembly connections
Can be used with fire rated doors
DU
Standard Series Drywall Frames for walls
Designed to be installed on standard wall sizes over pre-finished or unfinished drywall board
Can be fire rated up to 1.5 hrs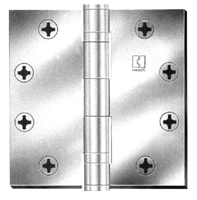 Hager BB1279
Most popular full mortise hinge used on medium weight doors or doors requiring average frequency service.
Five knuckle two ball bearing non-rising removable pin with button tip and plug.
Standard size is 4 1/2 X 4 1/2.
Hager manufacturing has a wide variety of hinge styles, finishes, and sizes.
Hager Roton
Continuous geared hinges, excellent as replacement hinges on damaged doors or frames.
Dependable in demanding applications like a busy school.
Extends the full length of the door and frame.
Instead of a pin, typical of traditional hinges, it uses two centers to form a rotating joint.
Since they roll when they come in contact, lateral wear is minimized. The unique gear profile extends from top to bottom inside a high strength cover channel.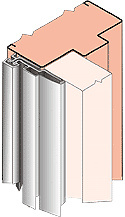 Locks & Levers & Knobs

Corbin Russwin CL3300
Series Lever cylindrical lock ideal for high use commercial and institutional applications. Exceeds ANSI Grade 1 requirements.
The CL3300 advantages include: patented lever release design for vandal resistance, solid cast levers, anti-rotation throughbolts, independent return springs to prevent lever sag, cover is ANSI/DHI with Door Prep A115.18-1994 "Spider Cut Out", and UL 3 hour fire rating for 4′ x 10′ door.
Corbin Russwin CL3800
Series ideal for light commercial applications.
Exceeds ANSI Grade 2 requirements.
Typical applications include: interior offices, restaurants, retail complexes, closets and multi-family housing.
CL3800 advantages include: solid cast levers, UL 3 hour fire rating, independent lever return springs, throughbolts on door for solid attachment, cover is ANSI/DHI with Door Prep A115.18-1994 "Spider Cut Out" and patented lever release for vandal resistance.

Corbin Russwin CK4200
Series heavy duty knob lockset. Ideal for demanding, high-use commercial, industrial and institutional applications.
Exceeds ANSI Grade 1 requirements. Lock-on rose liners and thimble increase security and prevent lock from loosening.
The 1 3/4″ knob shank minimizes wear and the 5/8″ latch and concealed knob catch enhances strength and security.
Corbin Russwin CK4400
Series standard duty knob lockset gives an outstanding combination of value and performance. Ideal for quality residential and light commercial buildings.
Exceeds ANSI Grade 2 requirements.
Zinc dichromated coating for corrosion resistance.
Adjustable latchbolt accommodates flat and beveled doors.
Wide array of functions and finishes.

Push Button Locks


Unican and Simplex
These ruggedly constructed, all-mechanical pushbutton locks offer the dependability and convenience of keyless access control for a wide and continually expanding range of applications.
Ilco Unican pioneered mechanical pushbutton access controls, and continue to be the world leader in this type of security.
No more keys with these mechanical access control locks.
Entry is gained by pressing the correct code.
Closers
Norton Series 7500
Multi-size entry door closer is adjustable for power sizes 2-6 and meets the American National Standards Institute (A.N.S.I.) standard A156.4.
The Norton 7500BF entry door closer is adjustable to sizes 1-4 to meet requirements for maximum door opening force as outlined in The Americans with Disabilities Act (A.D.A.) and ANSI standard A117.1, "Accessible and Usable Buildings and Facilities". Americans with Disabilities Act (A.D.A.).
TRI-STYLE: Standard Closer can be installed regular arm, parallel arm or top jamb.


Corbin Russwin DC6200
Series is proven effective in high use, high abuse environments.
Ensures latching for access control and fire and barrier-free code compliance. Ideal for virtually all door openings and draft conditions in both new and retrofit construction.
Non-sized and fully adjustable 1 through 6 power settings. Backcheck setting and is adjustable up to 180º opening for regular, top jamb and parallel arm mountings.
Ten-year limited warranty.
Exit Devices
Precision Exit Devices
Reputation for strength through their unmatched ability to withstand the most abusive application.
Precision Hardware, Inc., has been manufacturing panic and fire exit hardware for over 50 years.
All Precision Exit Devices are manufactured with rugged cast bronze, tenzaloy, or investment cast stainless steel chassis which provide more durability and the highest security.
Available in Apex contemporary touchbar and olympian traditional crossbar and a wide variety of finishes and outside trims.


Corbin Russwin ED8000
Series- Low profile and projection for barrier free code compliance.
No projecting parts to inhibit egress.
Heavy duty steel construction and Grade 1 performance, priced for outstanding value.
Meets rigorous life safety and security requirements, while offering pleasing aesthetics and trouble-free operation.
Meets ANSI Grade I requirements.
Easily field cut to size.
Wide variety of finishes and trims available.
Glass Vision Frames

LoPro Vision
Frame by Anemostat provides a 20 gage steel flush more streamlined look to the door installation.
Protrudes only 5/64 off the door face.
For use with 3/16″, 1/4″, or 5/16″ glazing material and 1-3/4″ doors.
Has same fire ratings as BFL-123.
Variety of styles to choose from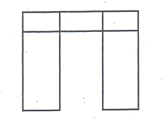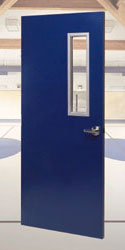 Door Louvers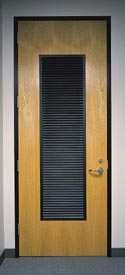 AFDL
Door Louver by Anemostat uses 18 gage steel frame with inverted Y 22 gage steel blades with non vision design.
FLDL-UL
Door Louver by Anemostat is Fire Rated with Fusible Link. U.L. label Fire rated up to 90 min., max. size 24″ x 24″.
Stainless steel operating springs assure proper action when the 160 degree fusible link releases the closing mechanism.
Uses 18 steel frame and inverted Y 18 gage steel blades with non-vision design.
Kick Plates, Doorstops, Surface & Flush Bolts, Push & Pulls

Rockwood Manufacturer Company
Numerous styles and finishes of door accessories.
Kickplates: an attractive means of protecting a doors surface from the scuffing and marring. They are available in various thickness' and materials such as stainless steel, laminate plastic, and even in various colors with specific materials such as Kydex or Nevamar.
Door pulls and push bars from solid bar stock. They are available in all architectural finishes including: aluminum, stainless, brass and bronze in both straight and offset designs. They also offer Custom designs via our engineering dept. to meet your exact needs.
Wall bumpers and doorstops are available in numerous styles and finishes. Wall bumpers and many of our stops feature a non-yellowing low durometer rubber bumper. Stops are available in both automatic and manual types.
Heavy duty surface and flush bolts for all your security needs.
Thresholds & Weather Strip

Reese Enterprises
Large assortment of thresholds, weatherstrip, door sweeps, automatic door bottom sweeps, astragals,smoke seals, and stair treads.
Reese Enterprises has been manufacturing weatherstrips, thresholds and other door products for more than 80 years.
They produce a wide variety of weatherstrips and thresholds in a range of styles, materials and finishes.
Door equipment manufactured by Reese Enterprises includes adjustable door stops, automatic door bottoms, strip doors, sound proof equipment, rain drips and door caps, shoes and extenders.

Exit Alarms


ECL-230D Exit Alarm
Detex Security Hardware Products has been the industry standard alarmed exit control lock for more than 30 years.
The ECL-230 series has been continuously updated to provide even more options, quality, and value, all in a time tested design.
Detex has a complete line of rugged, dependable security products which include exit alarms, access control systems and exit control locks.