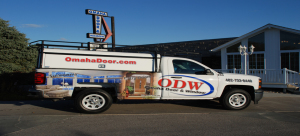 Here on our blog, we've covered quite a bit of information about windows, garage doors, and more. A few weeks ago, for example, we wrote a post about how to program your garage door opener remote or keypad—something that most homeowners would have little trouble with. Even basic garage door maintenance is within the scope of most homeowners' abilities.
Every once in a while, however, something like a broken garage door spring comes along and throws a wrench in the works. For those more complicated jobs, we want to let you know about something we offer to anyone in the Omaha metro area: 24/7 service!
For immediate service, we're always available by phone at 402-733-6440. If you can wait until the next business day, you can fill out our online service request form. We respond by phone, and in both cases, we'll discuss our repair rates so you know what to expect when we show up for the service.
This service—whether immediate or next-day—covers a wide variety of residential and commercial needs. Residentially, we can help with everything from broken garage door springs & cables to broken garage door openers to damaged doors. Commercially, we cover those same needs, but also offer service on high speed doors, rolling steel curtain doors, loading docks, hollow metal entry doors, window glass, and even preventative maintenance. We understand that in many cases, time is of the essence—and we'll respond accordingly.
We have 85 employees and a fleet of over 60 vehicles, allowing us to respond quickly and cost effectively for your service needs. We also keep a large inventory of replacement parts on hand. Needless to say, we're prepared for a large majority of the service needs that you may run into in a residential or commercial setting.
If you're in need of service, please fill out our online service request form. For all other questions or just to connect, don't hesitate to reach out to us via our website's Contact Us page, or on Facebook or Twitter @OmahaDoor.