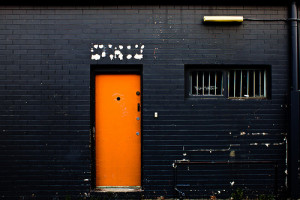 As homeowners, the safety of our family and belongings is probably the most important thing to us. And, in a perfect world, having a safe and secure home could be as easy as slapping on any kind of door to keep you out of harm's way.
Unfortunately however, not all doors are created equal. Knowing how to choose the right door that meets your safety needs as well as looking good (because no one wants their house to look like Fort Knox) isn't always the easiest task.
Luckily, here at Omaha Door & Window, we can help you find a door that is safe while also adding to the aesthetic of your home, giving you peace of mind all around. And, to boot, we've got some great tips on entry door security as well. Take a look below:
How to know if your current entry door is secure enough
As we mentioned above, not all entry doors are the same. Here are some tell tale signs that your current entry doors are not as secure as they should be:
Hollow door. The construction of your door is a big deal. If you have a hollow door, breaking into your house could be as easy as kicking it in. Even if it's not an old school hollow door, you want to consider the weight of the door, as well. Most big box stores sell 24-28 gauge steel doors. A 28 gauge steel door is light enough to be dented by a paper boy with a strong arm. Something more in the 20 gauge range will make you feel much more comfortable. You'll feel it each time you open and close your door.
Worn locks and hardware. Even if you aren't using a cardboard box for a door, worn locks and hardware could be enough to compromise the security of your entry door. Make sure your locks and strike plate are in good shape. ProVia doors feature a 20 gauge steel plate that connects from the deadbolt to a stud in your wall. When a door gets broken into, this is almost always the part that breaks. Having a door equipped like this gives you an extra layer of security where you need it most.
How to make your entry doors more secure 
First things first, if the construction of your door and frame is fairly poor then it is time to consider giving your door an upgrade. Here at ODW, we offer ProVia Doors as our go to in incredibly well designed and secure door construction.
All ProVia doors are made with the highest quality materials possible, all without sacrificing any of the beauty we look for in an entry. For more info, please check out our page on ProVia doors and why we consider them our top choice in security.
Other things to consider:
Once you've chosen the right door for you, there are plenty of other things you can do to make your entry door more secure, such as using a higher quality deadbolt like Schlage.
There's also an available option of a secondary deadbolt that gets installed about 6 inches from the top of the door. Other options include installing cylinder guards around the lock cylinder, and replacing/reinforcing strike plates when needed. All of these things, will in turn make for a much safer home, giving you and your family the peace of mind you need.
Omaha Door & Window offers installation, remodeling, and removal of old doors, windows and much more by our experienced installers. We want to make sure all of our customers get quality products and expert service.
As always, if you have any questions or would like to know more about what Omaha Door & Window has to offer, please don't hesitate to reach out to us via our website's Contact Us page. We'd love to help out! We're also available on Facebook and on Twitter @OmahaDoor.
—
photo credit: Black Wall via photopin (license)