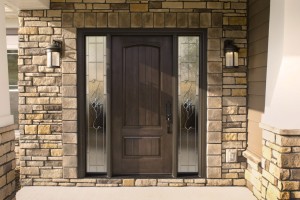 Whether you are moving into a new house or remodeling an old home, choosing an entry door can be quite a big task to tackle.
Rather than rack your brain with questions like "How do I find a high quality door that will ensure my home is protected and looks nice?" you can just come to us. Omaha Door and Window offers a great selection on entry doors, allowing us to provide you with the highest quality entry door possible.
Here's an introduction on what you need to know when selecting a new door for you home. Take a look below:
About ProVia Doors
Since its founding in 1977, ProVia doors has made a name for itself with its top of the line steel entry doors, fiberglass entry doors, sidelites, and patio doors, all while maintaining a beautiful selection of styles to make your door unique and completely customizable.
Sure, we could simply tell you that ProVia doors are some of the best around, but here are a few big reasons that's the case:
Security. The first thing you should look for in an entry door is security. Any police officer will tell you that most wooden door frames are easily defeated. It doesn't matter how strong your door is; if the door jamb is weak, it'll be the first to go.
ProVia doors come with 20 gauge steel security plate to reinforce their lock and deadbolts. These doors were built to be tough and will give you some added security and peace of mind.
Beauty. ProVia door systems also come in hundreds of styles, including simple stained and painted doors, as well as more elegant glass doors. If you're going for a certain look, they likely have what you need. With a ProVia door, you'll be able to heighten the beauty of your home without sacrificing the quality of protection you need.
Energy efficiency. To top it off, ProVia door systems boast high energy efficient and are Energy Star qualified. Doors come complete with weather stripping on all four sides and three seal points on the bottom.
ProVia doors look great, offer great protection, and are energy efficient as well. If you're looking for a nice-looking door and don't want to sacrifice security, they offer exactly what we'd recommend.
Omaha Door & Window offers installation, remodeling, and removal of old doors, windows and much more by our experienced installers. We want to make sure all of our customers get quality products and expert service.
As always, if you have any questions or would like to know more about what Omaha Door & Window has to offer, please don't hesitate to reach out to us via our website's Contact Us page. We'd love to help out! We're also available on Facebook and on Twitter @OmahaDoor.
—
Photo credit: ProVia