LiftMaster 87504 with Built-in Camera, WIFI, Belt Drive, Battery Backup, LED Lighting, & Keyless Entry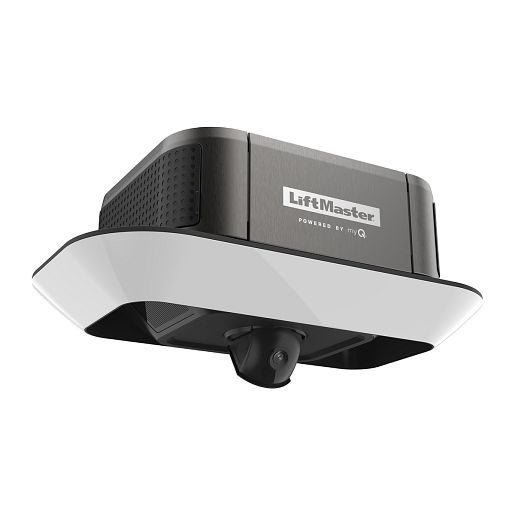 Features:
DC motor with Formula I belt drive and Motor Vibration Isolation for quiet operation.
Includes EverCharge battery backup system to operate your door when the power goes out.
Lifetime limited warranty on motor and belt.
5-Year limited warranty on all parts and radio controls.
1-Year limited warranty on the battery backup system.
Security+2.0 Remote Control – Rolling code technology that prevents unauthorized entry by changing the radio code each time the door is used.
895 Max Lighted 3-button transmitter.
880LMW Smart Control panel with timer-to-close, time, temperature, systems diagnostics, and lighted push button.
Manufactured with built in MyQ technology with Wi-Fi which enables secure monitoring and control of your garage door opener with a smart phone, tablet, or computer. See MyQ accessories below.
LED Lighting delivers 2000 lumens in a 360 degree circle that brightens every corner in the garage.
Includes a 878 max keyless entry.