Just because a garage door looks like it's made from real wood, doesn't necessarily mean it is. In this blog post, we'll be comparing traditional wood garage doors and steel garage doors with composite overlays to help provide you with a better understanding of these two popular options for achieving the wood-look.
Wood Garage Doors
In the past, the only way to accomplish the wood-look was to opt for a garage door that was made out of real wood. Traditional wood garage doors have a classic look that has maintained popularity over the years, not only because of the general visual appeal, but because of its ability to complement many different styles and types of homes. There are two standard styles of wood doors to choose from: wood panel doors and wood flush doors with insulation.
The biggest disadvantage of wood garage doors is that they require a decent amount of continual maintenance. Without properly caring for your wood door, it will quickly start to deteriorate and look less attractive. For example, if you don't repaint your wood door from time to time, it will begin to rot. While these doors are still available, they should only be purchased by those who are ready to handle the maintenance and upkeep necessary to maintain the wood.
Eventually, the steel door became available as a lower maintenance alternative to the traditional wood door. Unfortunately, homeowners quickly began to grow tired of this type of door because they all looked the same. Eventually, steel doors became available in a variety of styles, including options for two different kinds of insulation and the use of composite overlays. This development not only granted the consumer access to more unique and customizable options, but it provided the industry with a more favorable alternative to traditional wood doors.
Steel Garage Doors with Composite Overlays
Nowadays, steel garage doors with composite overlays provide a great alternative for achieving the wood-look without the use of actual wood. Composite overlays are materials that are attached to the exterior of the door to make the steel door resemble a classic wood door. Here are some of the advantages to this type of door:
It requires little maintenance, yet has the look of a classic wood door, giving you the best of both worlds.
It comes in a variety of styles, colors, and options, allowing plenty of room for customization.
While it may have a classic look, it's a modern steel door at heart. This means that it has a motor and functions overhead, which makes it much easier to operate than an older swing door. This factor is especially important in areas that get a lot of snow, like ours, since that can make manually opening an older door even more difficult.
Last, but certainly not least, it can be insulated.
Steel garage doors with composite overlays offer countless options to make your house stand out and ultimately utilize durable, low-maintenance material that continues to grow in popularity over time.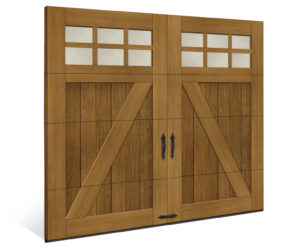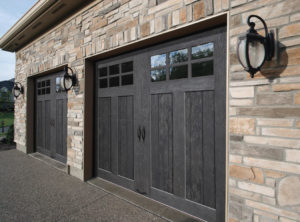 We encourage you to contact us if you're interested in learning more about the product lines we offer, or if you have any questions on selecting the door that's the best fit for your preferences and needs. You can also click the garage door link on our website at omahadoor.com.