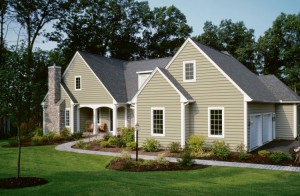 Most homeowners have a few concerns in common; appearance and energy efficiency are two examples.
Homeowners take pride in their homes. We want them to look good, and hopefully not cost us too much money. While we can't count out emergencies, energy efficiency can help to keep costs down and keep us cool in the summer and warm in the winter.
Of course, there's a lot that goes into maintaining a home. Few elements of your home's exterior, however, are as prominent as your siding. Other than your roof, your siding is the most visible element of your house.
Today, we're going to talk about why siding matters—and what to expect when you need to replace it.
Why Siding Matters 
Homeowners value appearance and, well, value. New siding gives a lot of bang-for-your-buck:
You don't ever have to worry about painting again. Paint costs a lot over time, requires frequent touch-ups, and does little for your energy efficiency. It's purely aesthetic, and even then there's a lot of hassle in getting your home repainted every five to seven years.
Vinyl siding boosts energy efficiency. Siding increases the energy efficiency of your home by adding a layer of insulation. Think of it as almost a blanket around your home keeping the cold or hot air in and the elements out.
Combine those two, and you've just increased the overall appeal of your home. Simply put, siding is a low-hassle way to make your home look good and function efficiently.
Signs You Need to Replace Your Siding
Here are a few key red flags that will tell when it is time to replace your siding.
Water damage. The biggest enemy to wood siding is the elements, specifically water from snow and rain. When you look around the sides of your house, you may start to notice areas were the wood has gone soft or spongy.
What that means is that the wood is beginning to rot and absorb moisture. If you don't fix it sooner than later, then you can run into problems with water damage and potentially even mold in your home.
Another tell-tale sign of water damage is when the nails in the siding begin to push themselves out. That means there is swelling going on due to the moisture content of the wood.
Old paint. As we mentioned before, painting your home can be a hassle. While it is a quick fix and does act somewhat as a barrier to the elements, it isn't going to save your wood siding over time. When your house needs a paint job is a great time to think about replacing your siding. You'll never have to worry about paint again!
What to Do When You Need New Siding
Here at ODW, we work with Mastic Home Exteriors for virtually seamless vinyl siding. Here are three options to consider, depending on your aesthetic preferences and budget:
Ovation. This is the most budget friendly of the three and comes in a multitude of colors and styles to choose from at a 12-foot length.
The Quest is our preferred choice because it has a great number of colors and styles to choose from, and also comes in 25-foot length.
The Structure line comes at a higher price point, and includes some extra features like energy efficient insulation form fitted to the back. This gives it an almost wood-like quality and adds structural strength and additional energy efficiency.
Each style comes in many different profiles—from 3- to 7-inch lap—as well as many different options for add-ons, making this siding extremely customizable. It takes about a week from start to finish to install siding, making this a hassle-free process.
As if that wasn't enough, Mastic also provides a double lifetime warranty. As the first homeowner, you will get a lifetime warranty. The second owner will get the warranty as well—a definite value-add for your home.
Siding is an excellent option for many homes, and is often much better than painting. When you install new siding, you'll never have to worry about painting again, your home will look great, and you'll get some added energy efficiency, to boot. Want to learn more? Reach out to us via our website's Contact Us page. We'd love to help out! We're also available on Facebook and on Twitter @OmahaDoor.
—
Photo credit: Mastic