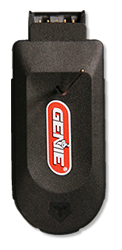 Everyone has been in this situation: you leave home in a rush, mostly making sure that you have everything you need for the day. By the time you've turned the corner at the end of your block, it dawns on you… is the garage door still open?  Luckily, Genie offers an innovative accessory that provides a solution for minimizing your garage door anxieties – the Genie GLR-BX Closed Confirm Transmitter!
The mechanics of this gadget are simple. The compact Closed Confirm Remote can be attached to the visor in your car or stored in a compartment for easy access. When it comes time to check whether or not your garage door closed, look to this device for an easy-to-understand signal. A green light will light up to show that your garage door has successfully closed.  A red light paired with a warning tone indicates that the door was not able to close properly. Whether a lawnmower is too close to the entrance or some other blockage is in the way, the alert clearly indicates an issue that will need to be further addressed.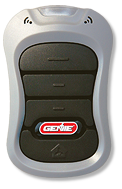 Part of what makes this device stand out from standard open/close devices is its great range. Regular transmitters typically only reach out to near the end of your driveway. The Closed Confirm Transmitter operates at a frequency of 915 MHz, which allows for a 1,000-ft radius range. This feature is perfect for when you don't realize your door may not have closed until you are a block away.
The Closed Confirm Transmitter is compatible with a number of different models of Genie garage door openers. However, in order to be able to utilize this accessory with your opener, you'll also need to purchase a Genie Network Adaptor (model: GN-BX).
Whether it's to relieve your stress or to add a new security measure to your garage door, the Closed Confirm Transmitter is an excellent accessory to have. Contact us for more information.