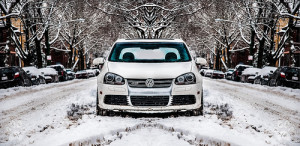 We work hard to take care of our homes, making sure we do everything we can to keep our personal space as comfortable and well-put-together as possible.
But one area that seems to get neglected all too often is the garage, despite the fact that the garage can actually be one of the most heavily trafficked areas of the home.
A garage is more than just four walls and space for your car. It can be a workspace, a storage spot, and much more. That's why—especially in a four-season environment like the Midwest—having a well-put-together garage is key to utilizing it as more than just a glorified parking spot.
One way you can tap into the full potential of your garage is by installing an insulated garage door. To sweeten the pot, an insulated garage door will provide you more than just a great workspace; it will help improve your home, which is exactly what we are going to go over today. Take a look below:
Why install an insulated garage door?
At its most basic level, your garage door is just another door to your home, and a big door at that. So, like your other doors, it's best to take measures to make sure the garage is properly insulated. Here is why:
First, if your garage has poor insulation, the room will fill up with cold or hot air from the outdoors. During the wintertime when it's freezing outside, cold air will make its way into your garage through the path of least resistance—your door.  That may seem like no big deal, but in addition to keeping your car cold in the winter, it also has an effect on the insulation of your home. You may find that your basement or other room attached to the garage is much harder to keep at a reasonable temperature because of your garage door.
Secondly, your garage is more than just space for your car. These days, garages are built with extra space near the house to accommodate a workbench or other storage. An insulated door keeps that space at a more livable temperature.
If you aren't one for having a workspace and would rather use that area for storage, you should also consider getting an insulated door. Constantly fluctuating temperatures can wreak havoc on many things in your garage. Over time, the items that you store in your garage can end up being ruined from the constant bombardment of hot to cold and vice versa.
With an insulated garage door, you can keep that space at a more even temperature year-round, helping to ensure that those valuables you want to save for later will actually be in same shape as when you packed them away.
As always, if you have any questions or would like to know more about what Omaha Door & Window has to offer, please don't hesitate to reach out to us via our website's Contact Us page, where we'll put you in touch with an expert who will identify exactly what you need. We're also available on Facebook and on Twitter @OmahaDoor.
—
photo credit: R32 (1 of 1) via photopin (license)