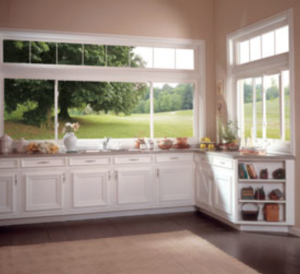 Of all the windows we offer here at Omaha Door & Window, Soft-Lite—and specifically, Soft-Lite Imperial LS Vinyl Windows—are the highest-quality windows we offer. Although you may think that all windows are created equal, certain brands like Soft-Lite do offer a clear advantage over lower-quality, less expensive windows.
Soft-Lite Imperial LS Vinyl Windows come feature-packed. Here are some of the most important considerations about these great windows:
Excellent energy efficiency: With these windows, Omaha Door & Window can help you save up to 40% on your heating and cooling bills. Soft-Lite windows are made with triple pane glass, two reflective coatings, and two air spaces filled with Argon gas for maximum energy efficiency in your home.
Energy Star qualification and good NFRC ratings: All Soft-Lite windows are Energy Star qualified in the United States. What's more, they also have excellent NFRC ratings. The Imperial LS Vinyl Window has among the best NFRC ratings of all windows available.
Warm edge technology: Super Spacer, found in Soft-Lite windows, contains no metal and helps prevent condensation at the edge of the glass. Super Spacer also reduces sealant stress, improves heat flow resistance, and improves sound absorption, making these windows a much different window than single-pane windows of days past.
Superior warranty: All Soft-Lite residential windows come standard with a lifetime warranty, which guarantee that windows will not rot, rust, warp, pit, corrode, or blister, and that the vinyl colors will remain true for the life of your home. What's more, we also offer installation guarantees to insure your satisfaction.
Here at Omaha Door & Window, we offer many different brands of windows to fit a wide variety of needs. However, in our experience, higher quality windows like Soft-Lite are well worth the investment. And remember—as we mentioned in our blog post last week, quality windows can actually save you money on energy and increase the value of your home. For excellent quality, Soft-Lite windows are hard to beat!
If you think you might be interested in having Soft-Lite windows installed in your home, or even if you'd just like to speak with us about your window options through ODW, don't hesitate to reach out to us via our website's Contact Us page, or on Facebook or Twitter @OmahaDoor. We install many Soft-Lite windows and would love to talk to you about how they could improve your home.
—
photo credit: Soft-Lite.com