The newest innovation for garages and home security is the smart camera. These smart garage cameras can be built-in with your garage door opener or can be an added accessory to your existing garage door motor. Just like other smart devices, a smart garage camera is compatible with apps such as LiftMaster's myQ.
The advancement of smart devices is not slowing down anytime soon, so we're here to walk you through smart garage camera options by LiftMaster.
LiftMaster Smart Garage Camera
LiftMaster is a reputable brand that offers both built-in and add-on cameras. The attachment camera has a magnetic base for easy mounting onto whichever existing door motor or metal shelving you currently have in your garage.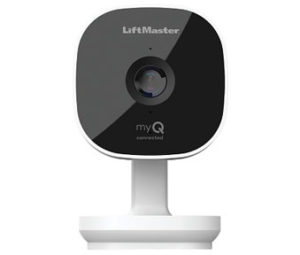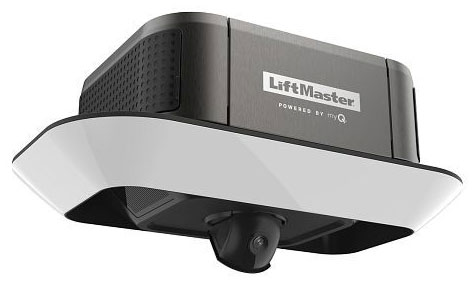 You will need to check to ensure your home's Wi-Fi reaches your garage for the smart camera to connect to the MyQ app.
App Needed: myQ Garage & Access Control
Smart Camera Features:
Live streaming with the option of recording streamed feed
Motion Alerts
Optional Service: Save data for 7-days or 30-days through cloud storage 1080p Full HD quality with a 140-degree wide-angle
Bluetooth Integrated
Operates in garage climates ranging from -4 degrees to 122 degrees F
Compatible with Key by Amazon
2-way communication
Why Install a LiftMaster Smart Garage Camera?
The live monitoring component is a big plus for homeowners. Not only can you see events in real time from your smartphone, but the MyQ app will send you motion alerts. The motion alerts are especially helpful if you have a detached garage. Breaking in and grabbing stored items like a set of golf clubs, snow blower, or workshop equipment is a great deal easier than a car.
LiftMaster even offers a storage subscription option where you can save 7-days or 30-days' worth of video feed. If you receive a motion alert that you cannot immediately check, you can go back into your stored data to check on your home.
If you're an Amazon Prime member, you can get your packages delivered inside your garage.  Now you can watch the delivery live!
Whether you are looking for a new door motor or just the camera attachment, Omaha Door and Window can help you find the best fit. Smart garage cameras truly take your home security to the next level.