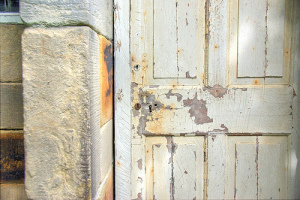 A few weeks back we gave you a primer on when it might be time to replace your windows, giving you some tips we've pooled together from our great deal of experience in evaluating old windows and determining when they need to be replaced.
Like windows, the doors around your home will most likely have to be changed at some point in your home's lifetime—It is just a matter of knowing when the time is right, which is exactly what we are going to talk about today.
Here are some indicators of when you might want to consider replacing your doors. Take a look below:
Your doors are difficult to open: A sure sign that it is time to replace your doors is when they become very difficult to open. Not only is this a nuisance, but can potentially be a safety hazard should you need to leave your home in a hurry.
Your doors aren't secure enough: Quite the opposite of our first point, your doors might be too easy to open. Problems like rotting around the doorframe can make older doors much more susceptible to breaking open and should be replaced or repaired immediately to avoid such an issue.
You can feel a draft: Like your windows, the frame of your doors may be susceptible to leaks due to old sealing and cracking that will develop gaps in the frame over time. As a result, you may see a spike in your energy bill, which can definitely be a cause for concern.
Here at Omaha Door & Window, we have a variety of door offerings that we can easily install with a full guarantee. We want to make sure all of our customers get quality products and expert service. And like our windows, our doors are a big part of our mission: we'll fit your home, your style, and your budget.
If you have any questions, please don't hesitate to reach out to us via our website's Contact Us page. We'd love to help out! We're also available on Facebook and on Twitter @OmahaDoor.