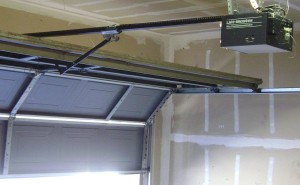 Here at Omaha Door & Window, our skilled technicians work hard to make sure our customers are happy.
While we are known for our expertise in doors and windows, we also know a thing or two about garage doors. Today, we're going to go over a few things that will help you know when it might be time to replace your garage door opener.
Troubleshooting with a Technician
The most obvious sign that you may need to replace your garage door opener is that it doesn't open or close. If you're having issues, our technicians will troubleshoot your unit to determine if it needs to be repaired or replaced. We'll likely go over a few different things:
Age of the unit/scope of the repair: In some cases, it may not be worth it to repair the garage door opener. If the unit is very old or if the repair is going to be more than half of the cost of a new unit, or it is so old it doesn't have safety photo eyes, we generally recommend total replacement. If it is an inexpensive or simple repair, however, we'll always explore that avenue first.
Rollers, tracks, and springs: The go-to for most people is the opener, but it could be possible that your garage door opener is in perfect shape and your garage door is the problem. In some cases, the roller may have gone off the tracks or something may be wedged in the tracks that is preventing your garage door from opening. This is generally a repair that any of our qualified technicians can make.
Sensors: The sensors may also be another issue that are keeping your garage door from working. If the door will open but won't close, our technicians can realign the sensors or replace them if they're defective to get things working again.
Wiring: Another possibility is that the wiring to your wall switch has been damaged and is shorting out the system. This may be the case if you find that the garage door opens by remote control, but not by its hard-wired button.
Our skilled technicians have a keen eye for what to look for, saving you time, money, and frustration.
Replacing Your Garage Door Opener 
If our technician suggests that it may be time to think about replacing the garage door opener, here are a few great options we think you should consider:
LiftMaster: LiftMaster's chain driven 8065 model is a very popular base unit. Moving up the ladder, models like the LiftMaster 8550 belt drive model offer additional features like MyQ technology, which enables you to connect to the Internet to open and close your door. We will work with you to determine the best model for your needs and budget.
Genie: Genie offers a complete product line with chain, belt, or screwdrive. In some areas of town, radio control interference is a big problem, and on certain models Genie offers a plugin module to "rifle shot" the original, hence better reception.
Whether your garage door opener needs repair or complete replacement, our skilled technicians will help troubleshoot your problem and identify the best way to move forward.
Omaha Door & Window offers installation, remodeling, and removal of old doors, windows, and much more by our experienced installers. We want to make sure all of our customers get quality products and expert service.
As always, if you have any questions or would like to know more about what Omaha Door & Window has to offer, please don't hesitate to reach out to us via our website's Contact Us page. We'd love to help out! We're also available on Facebook and on Twitter @OmahaDoor.
—
Photo credit: Oleg Alexandrov via Wikipedia