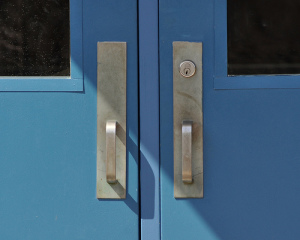 At Omaha Door & Window, we have a great line of commercial entry doors. We also offer custom fabrication of doors and frames at our plant for the replacement of your existing doors, as well as new installations.
To learn more about our selection of entry doors, take a look below:
CECO DOOR
Omaha Door & Window is proud to offer Ceco Door to our customers. The world's leading manufacturer of steel doors and frames for commercial buildings, Ceco offers a wide variety of doorway solutions to meet the safety and efficiency needs of their clients. As their mission statement says, Ceco Door prides itself on "sustaining a competitive advantage through service, product and process superiority, a total quality commitment, and a strong customer focus."
Models we offer
Medallion: The Medallion model is designed to handle the extreme—Used in schools, hospitals, institutions, and other heavy-duty openings, the medallion model has a fire rating available up to 3 hours.
Available in 18 or 16-gage doors
22 vertical steel stiffeners
7 gage steel hinge reinforcement
12 gage closer reinforcement and fiberglass reinforcement
R-value of 1.626.
Legion or UltraDor: The Legion line, or UltraDor, is manufactured as a handed door with a beveled lock edge. The polystyrene core provides insulation characteristics and resists impact damage.
Reversible swing, non-handed door
A square lock edge
Cut-through hinge preparation.
Light to extra heavy-duty use
7 gage convertible steel hinge reinforcement
1 ¾" insulated full flush design.
Available in 20, 18, and 16-gage steel
Versadoor: Non-handed and fully reversible on the job site, the Versadoor line can be used for right or left hand opening, swing in or out, single or in pairs. For customization, the Versadoor also comes with decorative glass that can complement the embossed patterns.
Available in 20, 18 or 16-gage steel
7 gage hinge reinforcements
Cold rolled or galvanized steel
A foam-in-place polyurethane core for high insulation
Omega: The Omega line is unique in its honeycomb core construction. The non-handed edge can be switched on the job site to right or left handed openings, swing in or out, or as double doors
Available in 20, 18 and 16-gage steel
Steel options include: face sheets, galvanized steel, and 20 gage galvanized textured steel skins
1-3/4" thick full flush (seamless optional) styles
Crush strength of 45 PSI
Sound transmission class of 32
Stainless Tech: For complete customization, the stainless tech line is the best in architectural quality stainless openings.
Available in 18 and 16-gage doors
A honeycomb or urethane core
Available finishes include:

304 alloy satin or mirror stainless steel
316 high corrosion resistant or satin finish stainless steel.
OTHER PRODUCTS WE OFFER
On top of our great selection of Ceco doors, we also offer the following to complement your entry doors:
Ceco frames in the SU series and DU series
Hager hinges
Corbin Russwin locks, levers, and knobs
Ilco Unican and Simplex push button locks
Closers by Norton and Corbin Russwin
Exit devices and Alarms
Aside from maintaining the appearance of your building, the replacement of your entry doors is crucial to ensuring a safe environment for customers and workers alike. Safety is important to us, so we offer 24-hour emergency service for any of your repair or remodeling needs.
For more information, please visit our commercial entry door page. As always, if you have any questions or would like to know more about what Omaha Door & Window has to offer, please don't hesitate to reach out to us via our website's Contact Us page. We'd love to help out! We're also available on Facebook and on Twitter @OmahaDoor.