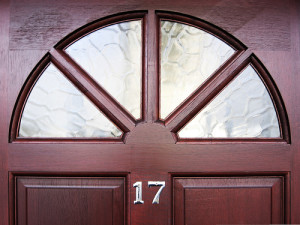 The idea of theft can seem like an unimaginable occurrence, but the reality is that in the United States alone, nearly 2,000,000 home burglaries are reported each year.
Of course, no one ever wants to believe it can happen to them—but it never hurts to be prepared. One way to help deter such a terrible event from happening is by improving your entry door security, the topic we're going to tackle today.
Assessing the myth: is it really all about the door?
So: you want your home to be as solid as Fort Knox. A solid steel entry door and a huge deadbolt are going to be enough to deter thieves from entering, right? Wrong. In reality, these parts on their own do little to improve entry door security; what truly makes a door secure is the frame or material the door locks into.
Most doors lock into a piece of wood that is ¾" thick. When a burglar tries breaking in through the entry door, they are going to target the weakest point of the door and that certainly won't be the center of a solid steel door. Instead they will try opening it or kicking it in near the frame, aiming to break the 3/4'" thick piece of wood.
To combat this, you will need to beef up your doorframe and locking point, which is where we'll come into the equation. ODW carries an extensive line of solid entry door sets from companies like ProVia. Here is the breakdown of their doors:
ProVia doors come standard with a 20-gauge steel security plate for all of their full wood frames. The steel plate is screwed onto the back of the frame and runs into the studs of the home, making the strength of the opening much stronger than your standard doorframe. The beauty of this is that it is virtually unnoticeable, unlike most aftermarket products, which can make the opening safer, but unfortunately uglier.
Now here is where the steel door comes in. As we mentioned above, a steel door won't do much for security on its own, but stronger doors make a difference after you've secured your frame. ProVia carries 20-gauge steel doors—much thicker than most box store doors, which are often made up of 25-gauge steel. In turn, what you get is a solid door that not only adds security (in conjunction with a solid door frame), but one that is less likely to dent and be damaged in day-to-day use.
Hardware is important as well. ProVia offers a lifetime warranty on their hardware; they use Schlage locks, giving you additional peace of mind. Another thing to consider is the strike plate. A strike plate alone will not do much (most have only two ½" screws), so make sure to choose the right strike plate to accompany your door.
As always, if you have any questions or would like to know more about what Omaha Door & Window has to offer, please don't hesitate to reach out to us via our website's Contact Us page. We'd love to help out! We're also available on Facebook and on Twitter @OmahaDoor.
—
photo credit: Front Door via photopin (license)