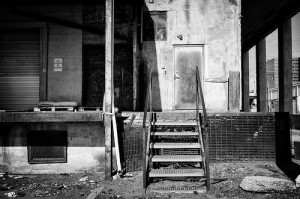 Every day, millions of homeowners enter their homes, leave for work, push their doors open to bring in the groceries, or shut the door behind them when they're leaving. However, we don't seem to think about the shape our doors are in all that often.
Over time your doors will age, leading to a serious security issue or poor insulation, which can hike up your energy bill. This can be the result of rotting, a shifting house, a worn or cracked frame, or constant wear and tear from opening, to name a few causes.
Here are a few signs it might be time to replace your door:
The draft test. Run your hand along the edges of your door. If you feel a cold wind or any wind at all blowing through, that is a sign that your door might need to be replaced.
The light test. Another way to check if your doors aren't sealed properly is by checking for light coming through the frame. You can do this by turning off the lights and shutting the blinds to see if the sun is shining through, or by taking a flashlight and running it along the frame. It's simple: if light is getting in between your frame and door, air is getting in and out, too.
Check the hinges. Your hinges can take quite a beating and may eventually get loose and strip from the frame. Checking this is as easy as opening the door and trying to move the hinges around to see how flush they are to the frame and door. A less serious problem is a squeaky hinge; squeaky hinges should be oiled to prevent excess wear.
The patio door. A poorly functioning patio door is not only a nuisance but a serious hazard as well. If you find that your patio door isn't sliding smoothly or locking when closed, that is a good sign that you may need to change it.
Appearance. Another thing to consider is the appearance of your home. Doors are often the focal point of the exterior of your home. If your door doesn't match the rest of your home or if your front door seems a little outdated or run-down, it can send the wrong message. Upgrading your door can be a serious upgrade to your home's appearance.
Other things to consider
Now that you've decided to finally replace your door, here are a few things you'll need to keep in mind:
More than just wood. Believe it or not, there is more to a door than just being a slab of wood. When replacing your door you'll need to take into consider the seasons, how frequently it is used, and how secure you want it to be. On top of that, there are plenty of materials to choose from, from a steel door for heightened security and fire-resistance, to fiberglass doors for durability and elegance, to a simple wood door for beauty.
Installation. Here at ODW, we want to make sure all the components of your door work properly. Installing a new door and frame is a complicated process that involves the removal of the old frame, custom-fit installation, leveling, and more. We're here to help make sure your door is installed correctly.
Even though we don't think about them much, entry doors are an important part of the security, aesthetics, and energy efficiency of any home. Do you think your door needs to be replaced? Get in touch today!
—
photo credit: squares and rectangles via photopin (license)