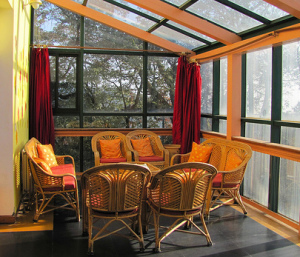 Although the weather is warming up, we still have our days when the wind and rain make going outside less than desirable.
Fortunately, though, that doesn't mean it should stop us from enjoying this spring season. At Omaha Door & Window we offer great services on door and window installations, but did you know that we also offer installations on sunrooms?
But, before we get into the specific models we have to offer, here are some reasons why you should consider investing in a sunroom with ODW. Take a look below:
Why get a sunroom?
Simply put, sunrooms are a great addition to any home because of their added beauty to the house. Aside from being a beautiful addition to your home, they can be a great spot for entertaining, relaxing, as well as a great space for you to enjoy the outdoors from the comfort of your home.
Here are other reasons why you should consider investing in one with us at ODW:
It's a great investment. Believe it or not, sunrooms can be a great investment to your home. According to realtors and home improvement associates, almost 100% of the cost of a sunroom can be added to the resale value of your home.
Quick and easy installation. The custom design and modular system of our sunrooms make it an easy fit to the design of your home without the hassle of a messy installation that comes with many conventional building projects.
Quality guaranteed. To give you a peace of mind, all installers with ODW are insured for your protection, as well as have a great deal of experience when it comes to installing sunrooms, windows and doors. On top of that, we take great pride in what we do, so all of the products we carry are guaranteed to be the best quality possible.
Omaha Door & Window offers installation, remodeling and removal of old doors, windows and much more by our experienced installers. We want to make sure all of our customers get quality products and expert service.
As always, if you have any questions or would like to know more about what Omaha Door & Window has to offer, please don't hesitate to reach out to us via our website's Contact Us page. We'd love to help out! We're also available on Facebook and on Twitter @OmahaDoor.
—
photo credit: Midlands Sun Room via photopin (license)