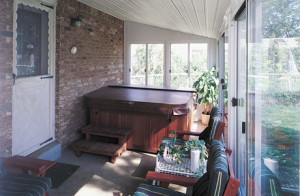 Omaha Door & Window has been the number one trusted company for quality replacement garage doors and windows in the Omaha metro for over 55 years.
Aside from our great selection of windows and doors, Omaha Door & Window also offers a wide variety of home and commercial improvements for our customers to choose from.
So, with spring now in full force, we thought we'd highlight some of the great products that will get you geared towards getting outside, specifically our great sunrooms. Take a look below at what we have to offer:
Red Oak Sunrooms
Omaha Door & Window is proud to carry Red Oak Sunrooms not only for the quality of their products, but also for their dedication to ensuring that their products are handled properly by the contractors who install them. Just take a look at their mission statement: "Red Oak Sunrooms is vigilant in only offering our sunroom product to dealers who are financially strong, proven and excel in the sales, customer service and construction of sunrooms."
As such, we take it upon ourselves to make sure we stand by their commitment to their own products, as well as their commitment to those who purchase them.
So what makes Red Oak Sunrooms stand out from the rest? Here are some of the things they have to offer:
Energy efficient. Red Oak Sunrooms stands by the energy efficiency of their sunrooms:

Sunrooms comes standard with Low-e and Argon filled safety glass that provide superior insulation, noise reduction, security, and safety.
Aluminum frames of the sunroom walls are all 100% thermally broken to reduce cold transfer from outside.
The design reduces condensation and cold drafts and has no "short circuits".
Energy Star rated windows and doors come standard with tempered glass.

Built to last. Red Oak sunrooms are truly built to last with the following specifications:

Aluminum frame is constructed of 4" thick thermally broken .060 gauge aluminum extrusions.
The sills slope to exterior weeps which in turn helps to keep water out.
The insulated wall panels are 4" expanded polystyrene (EPS) with laminated vinyl skins that prevent any denting, chipping or cracking, meaning they are essentially maintenance free.

Red Oak Sunrooms also prides itself on the customization of their sunrooms. There are plenty of size and design options to choose from to compliment your home and lifestyle:

5' – 6' vinyl sliding patio doors or single swing aluminum terrace doors.
Various vinyl window styles including sliders, double hungs, awnings and casements.

Transferable warranty. Not only does Red Oak Sunrooms stand by their product, but they also back it with a lifetime warranty that can be transferred to the next homeowner. This adds even more value to your home, as well as gives others the opportunity to enjoy the sunroom for many years to come.
Interested in having a Red Oak Sunroom installed by us? Feel free to give us a call! Omaha Door & Window offers installation, remodeling and removal of old doors, windows and much more by our experienced installers. We want to make sure all of our customers get quality products and expert service.
As always, if you have any questions or would like to know more about what Omaha Door & Window has to offer, please don't hesitate to reach out to us via our website's Contact Us page. We'd love to help out! We're also available on Facebook and on Twitter @OmahaDoor.
—
photo credit: Red Oak Sunrooms gallery