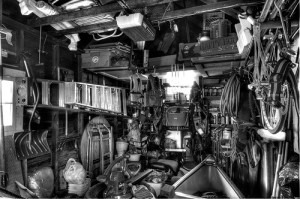 Here at Omaha Door & Window we may be pros when it comes to installing and replacing windows and doors, but we also happen to know a thing or two about organizing the house and getting the home in tip top shape.
One area that seems to get neglected all too often is the garage. Even though we are in and out of the garage all the time, the space rarely reaches its full potential.
But with a little hard work, you can get your garage organized in no time! An organized garage will open up a number of possibilities for you to enjoy the space: from extra storage to a new workspace for any great DIY projects you'd love to do.
So before summer gets in full swing –heat and all – here are some tips on how to get your garage organized. Take a look below.
Clear out the clutter. Sometimes it can be hard to get rid of the things we don't really need, but if you want to get the most out of your garage space, now is the time to start thinking about what you do and do not use. Whether it is a box of old clothes or a kid's bike that is no longer used, donating these items will open up some room for other things. Plus, it can also give new life to plenty of things that haven't been used for years.
Reassess the space. First things first, what do you want your garage to be used for? If you have a car parked in the driveway because you don't have the space to put your garden and backyard supplies elsewhere, consider getting a shed to put out back where you can store the things you'll need for the backyard. Of course, that is only one of many options to consider. If you have a lot of items in the garage that you don't readily use then perhaps consider storing it in the attic or basement. This will keep them out of sight and free up some much need space for other important things.
Utilize that wall space. Take your garage organizing to another level by setting up a pegboard system/shelving unit on your garage wall. That way you can keep things off the ground and also allow easy access to the tools you use often.
Set up a workbench. Now that you've made yourself little bit of wiggle room, consider putting in a workbench at the back of your garage. Not only does this give you an opportunity to work on any DIY projects, but it also serves as another storage area that is much more organized than simply plopping down a bunch of cardboard boxes.
Omaha Door & Window offers installation, remodeling and removal of old doors, windows and much more by our experienced installers. We want to make sure all of our customers get quality products and expert service. As always, if you have any questions or would like to know more about what Omaha Door & Window has to offer, please don't hesitate to reach out to us via our website's Contact Us page. We'd love to help out! We're also available on Facebook and on Twitter @OmahaDoor.
—
photo credit: happy hour 3-7 pm via photopin (license)