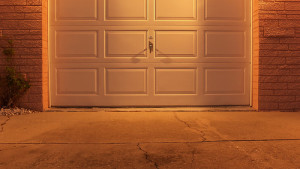 For homeowners and business owners alike, the garage is a main hub of traffic. As that's the case, the wear and tear over the years on your garage door means that eventually, it will need to be replaced.
With the proper care and maintenance, however, you can extend the life of your garage door. At Omaha Door & Window, our garage door maintenance service is executed by some of the best technicians around.
So what does our garage door maintenance entail? Take a look below:
Visual inspection. One of the first things our technician will do is take a look over all of the important moving parts of the garage door and opener.
What we try to look for are worn out garage door springs, rollers and pulleys, fraying cables, and loose mounting hardware (i.e. hinges). From there, we'll lubricate and fine-tune these parts and take note of the sounds of the door and chains, which can show signs that the door and opener may have serious issues.
Then, we'll move onto leaks and cracks throughout the seals, such as the weatherstrip at the bottom, which is meant to keep the elements out of your garage.
Adjusting and balancing. We'll also adjust the springs in order to make sure the door is balanced. This makes it much easier to lift manually, and should also help your opener last longer. A door with an improperly adjusted spring can be hard on your opener, and can also be a serious safety hazard.
Adjusting safety features. Garage door openers manufactured after 1993 are required to have a photo eye and reversing feature as a part of standard safety measures.
To ensure that both of these features work, we will adjust the sensitivity of the photo eye for moving objects, and adjust the sensitivity of the reverse feature for obstructions. Again, our goal here is to make sure everything is configured correctly, and to ensure that your door and opener are safe to use.
With over 85 employees and a fleet of over 60 vehicles, we do everything in our power to provide 24-hour service. We believe in providing high quality service at a cost effective price.
For example, if one of our technicians doesn't recommend repairing a door or operator and you choose to purchase a new product from us, we will credit half of the service charge towards the purchase of a new door–saving you the time and money you need for other important things.
As always, if you have any questions or would like to know more about what Omaha Door & Window has to offer, please don't hesitate to reach out to us via our website's Contact Us page. We'd love to help out! We're also available on Facebook and on Twitter @OmahaDoor.
—