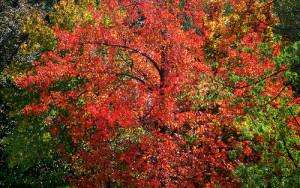 Fall is well underway, and for most people that means bonfires, pumpkins and falling leaves.
There's no doubt that this is a great time of the year to enjoy with your family. But winter and the holidays will be sneaking up on us in no time, meaning we've all got a few big tasks we need to get done to make the transition as smooth as possible.
To get your home prepped for a comfortable and stress-free winter, here are a few fall home maintenance tips. Take a look below:
Weather proof your home. As the weather cools down and the winds begin to pick up, you'll need to take care of any unwanted leaks and insulation problems before a chill settles into your home.
Now is the time to check your windows and doors for air leaks. ODW provides some great options for window and door replacement. By getting things done now, you won't have to worry about fixing the problem when the weather hits well below freezing.
Check the garage door. The change in weather can wreak havoc on your garage. The last thing you want is to have your garage door go out on you when the snow starts piling up on your driveway.
Our team of service experts can stop by anytime to give your garage door and opener some much needed maintenance, including replacing the weather strip at the bottom of the garage door which will keep out unwanted cold air and snow.
Clean the yard. Have a few trees around the yard? Pretty soon, those leaves will be falling by the dozen. As pretty as they look on the ground, eventually you'll need to clean them up in order to avoid rotting from the snow, which not only smells awful come late winter, but can also ruin your yard as well.
On top of that, now is the time to go through your trees and trim the branches that could prove potentially hazardous in a snowstorm if they fall.
Check the gutters. Your yard isn't the only place you'll have to worry about leaves. Getting your gutters cleaned is an extremely important part of fall home maintenance. For starters, water backup can cause serious water damage since the water has nowhere else to go but into your home or foundation.
And, once that water begins to freeze, all of that weight can actually pull the gutters away from your house. For the avid handyman looking to do a little DIY, this is as "simple" as getting on the ladder and cleaning out the gutters yourself. For those who aren't on ladders daily or might not be comfortable climbing up so high, you might want to hire a professional or have gutter covers installed to guard against leaves clogging your drainage ways—like the ones we carry, which are manufactured by Leafproof.
Get things done now so you don't have to worry about trekking in the snow to get them down in December. That way, you can spend your time doing more important things like enjoying the holidays with your family.
If you have any questions or would like to know more about what Omaha Door & Window has to offer, please don't hesitate to reach out to us via our website's Contact Us page. We'd love to help out! We're also available on Facebook and on Twitter @OmahaDoor.
—
photo credit: Only leaves via photopin (license)