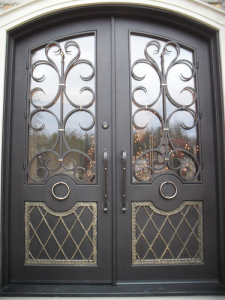 When selecting an entry door, there are quite a few options to choose from, the most popular being fiberglass, steel, and wood. And with all of the advantages between each door, it can be difficult to wrap your head around which one will really suit you, your budget, and your home the best.
Here at Omaha Door and Windows, we offer quite a few styles of doors for our customers to choose from, and given our expertise in the field, it only seems natural that we'd give you some tips to help get you started on choosing the entry door that is right for you. Here they are: 
Fiberglass Doors
Fiberglass doors are pretty new to market, but have gotten quite a few rave reviews for their durability. Here's what fiberglass doors have to offer:
Highly energy efficient
Can be made to look like wood
A large number of customizations
Low-maintenance
Resists denting and scratching
Steel Doors
Steel doors are a great option for those not looking to break the bank, but want an entry door that is secure and durable. Most steel doors will come in either 22-gauge steel or 24 gauge steel –prices and the efficiency of your steel door may vary depending on the gauge. Here's what steel doors have to offer:
Budget friendly
Sleek and modern appearance
Durable
Easily painted
Omaha Door & Window offers installation, remodeling and removal of old doors by our experienced installers. We want to make sure all of our customers get quality products and expert service. If you have any questions, please don't hesitate to reach out to us via our website's Contact Us page. We'd love to help out! We're also available on Facebook and on Twitter @OmahaDoor.
—
photo credit: Custom Iron Door via photopin (license)