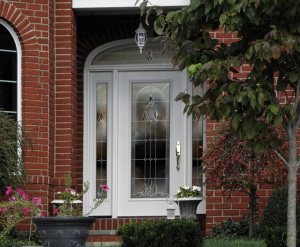 Whether you are looking to replace an old door that's past its prime, or are simply looking to update the elegance and style of your home, we here at Omaha Door and Window have a great selection of entry doors to choose from.
To get you better acquainted with some of the selections we have to offer, we are going to highlight one company we are very proud to work with: ProVia Door.
About ProVia Door
ProVia Door has been making a complete line of quality steel entry doors, fiberglass entry doors, sidelites, and patio doors since 1977. They pride themselves on the beauty, durability (backed with a Lifetime Limited Transferable Warranty), security (their locks and deadbolts are reinforced with a 20-gauge steel commercial plate), and energy efficiency of their doors.
The selection
Here are some of the ProVia Door types we have to offer:
ProVia Heritage™ Fiberglass Doors: For a touch of elegance, the ProVia Heritage™ Fiberglass option include the following features:
New Variable-Depth Wood Grain Texture
High-Performance Fiberglass & Hardwood Door Beauty
High-Definition Panel Profile
True Square-Edge Design
Internal Blocking at lock area
Solid Oak Laminated Styles
Rot-Resistant Bottom Rail
Heavy–Duty Ball Bearing Hinges
ProVia Legacy™ Smooth Steel Doors & ProVia Legacy™ Textured Steel Doors: ProVia Door also offers their Legacy line of Smooth Steel (20 and 24-gauge steel) Doors and Textured (20 and 22-gauge steel) Doors, both of which come in a wide variety of embossed and flush designs.
The customization
Another reason to choose ProVia Door is the great amount of selection they have to offer in customization, making it easier for you to find exactly the right door you want and need. Options include:
A variety of glass styles, ranging from clear to 15 collections of decorative glass.
Entry door hardware and accessories.
Retractable screen system.
Exclusive door finishes in thirteen paint colors and seven stain choices, backed by a seven-year warranty.
Omaha Door & Window offers installation, remodeling and removal of old doors by our experienced installers. We want to make sure all of our customers get quality products and expert service. If you have any questions, please don't hesitate to reach out to us via our website's Contact Us page. We'd love to help out! We're also available on Facebook and on Twitter @OmahaDoor.
—
photo credit: ProVia Legacy™ Steel Door via Proviaproducts.com