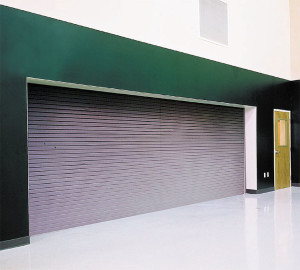 Here at Omaha Door & Window, we try our best to ensure that our products match the needs of our clients. We take great pride in the products we carry, believing that they are the best on the market given their high quality and competitive pricing.
One such company that we enjoy working with is Cornell Iron Works, whose rolling steel doors are some of the best. For more information, take a look below:
About Cornell Iron Works
To say that Cornell Iron Works is a leader in rolling steel doors and grilles is a bit of understatement. Founded in 1828, Cornell Iron Works has had well over a century of experience in the manufacturing of specialty ironwork, grates, railings, stairs, vaults, and structural and ornamental ironwork.
Today, Cornell Iron Works has positioned itself to be an innovator in the industry, contributing to the overall design and construction of high quality industrial building materials in the ironwork industry. Here are some the products we carry and what they have to offer:
Rolling service doors

Roll-formed from commercial quality G-90 hot-dipped galvanized steel.
Painted with a baked-on tan polyester enamel pain with over 200 other colors available with Cornell's SpectraShield Powder Coat Finish.
Also available in aluminum, perforated, and stainless steel non-insulated flat slats.
Also comes in energy saving Thermiser, a 15/16" thick insulated slat that offers great energy savings.
Available in a variety of motors, chain, hand-crank, or push up designs based on size, weight, and frequency of operation.
Rolling fire doors

UL Label or Oversize Label Class A 4 hour fire rating for maximum fire protection.
Automatic closer can be initiated by melting of fusible link or by electro-mechanical design, activated by heat detector, smoke detector, or building alarm system.
Governor reduces the door speed to allow for a smooth descent in case of a fire.
Available in flat steel or stainless steel slats.
Rolling counter shutters

Available in aluminum, baked on light gray polyester painted steel, and stainless steel in a flat slat design.
Fire rated steel and stainless steel counter shutter also available.
Can be operated manually, by crank or motor.
Can be mounted to the face of the wall or between jamb mount.
Over 200 other colors available in Cornell's SpectraShield Powder Coat Finish.
Rolling grilles

Cornell Iron Works uses 5/16″ diameter horizontal aluminum rods spaced vertically at 2″ or 1 1/2" on center. They also come with interlocking stamped aluminum links spaced horizontally every 3", 6″ or 9″ for ultimate security.
Standard Mill finished aluminum with clear anodized, medium bronze duranodic, dark bronze duranodic, or black duranodic optional.
Glazed curtain is available to provide security against theft of small articles while still offering visual access to interior spaces.
M100 Fireguard Closing Systems

M100 systems boast efficiency and cost effectiveness with the automatic resetting of the automatic closing system that minimizes the cost of testing and resetting as well as opening downtime.
Directly wired for activation by fire alarm systems, local detectors or power failure without requiring connection to a separate alarm interface, fusible link release device.
M100 systems eliminate mechanical spring release and complicated testing and resetting, especially on recessed and larger doors.
Omaha Door & Window offers installation, remodeling, and removal of old doors, windows and much more by our experienced installers. We want to make sure all of our customers get quality products and expert service.
As always, if you have any questions or would like to know more about what Omaha Door & Window has to offer, please don't hesitate to reach out to us via our website's Contact Us page. We'd love to help out! We're also available on Facebook and on Twitter @OmahaDoor.
—
photo credit: Cornelliron.com