RELIABILITY for real lifeIn 1960, JELD-WEN® began as just a small Oregon millwork plant with 15 employees. During those early days, they established a culture based on inspired vision, thoughtful planning and diligent craftsmanship. This culture has helped them become a well-respected company with over 150 divisions and more than 20,000 employees worldwide.

JELD-WEN® offers an extensive array of options to meet your unique preferences. Whatever you select, you can rely on JELD-WEN® windows and patio doors to be reliable, distinctive, durable, and worry-free.

Add visual warmth and elegance to your home with JELD-WEN® wood and aluminum clad-wood windows and patio doors. JELD-WEN® is a comprehensive source for dependable wood, vinyl and aluminum windows; wood and molded wood fiber interior doors; and wood, steel, wood composite and fiberglass exterior doors.

JELD-WEN PRESENTS AURALAST™,
THE WORRY-FREE WOOD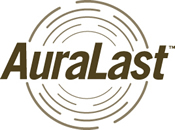 JELD-WEN® pine wood windows and doors are now crafted from environmentally friendly solid pine AuraLast™ wood. This exceptional wood offers reliable, superior protection against wood decay, water absorption, and termite infestation. Unlike dip-treated wood, AuraLast™ provides virtually 100% penetration of the active ingredients to ensure that the wood is protected from the surface to the core and that JELD-WEN® windows and doors remain beautiful and worry-free for many years to come. JELD-WEN's® AuraLast wood products are backed by an exclusive 20-year warranty, which is unmatched by any wood window competitor in the industry!
To learn more about AuraLast™, click the logo above.
FEATURES OF JELD-WEN® RESIDENTIAL WOOD WINDOWS
Wood Exteriors
With wood exteriors, you gain greater design freedom, because they can be painted or stained any color you want. They feature factory-applied primer, which helps paint adhere to the wood. This prime coat does not act as a sealant, so it's crucial to seal and paint the exterior wood immediately after installation. AuraLast™ wood promotes increased durability and decreased maintenance, however, it's still important to consistently maintain primed wood windows and patio doors (even after they're painted). This option is best suited for moderate climates.
Aluminum Clad-Wood Exteriors
For steadfast protection from the elements, select our low-maintenance metal-clad wood windows and patio doors. They feature durable metal cladding, so they're appropriate for almost every climate and never need painting. In addition, clad-wood exteriors offer plenty of design flexibility. They're available in a range of 39 colors, as well as custom colors that provide a truly personalized complement to any home. JELD-WEN™ also offers a clear satin anodized finish and three copper finishes. All JELD-WEN™ metal clad color finishes feature a commercial-grad 70% Kynar 500® resin system, which allows them to stay truer and brighter than other finish options. The JELD-WEN™ warranty guarantees the finish won't chalk or fade for 20 years!
Optional Wood Species
Increase the sense of visual harmony within an interior space by choosing a wood species to coordinate with the cabinetry or furnishings in your home. These options include Pacific Coast Red Alder, genuine Mahagony, and vertical-grain Douglas Fir. These optional wood species are available for the interior of any of JELD-WEN's clad-wood windows and patio doors.
Interior Prefinishes
JELD-WEN® offers prefinished interiors for all their window and patio door products. These options include four acrylic colors (Moderate White, Extra White, Natural Choice, and Pure White), four stain colors (Wheat, Cherry, Fruitwood, and Cordovan), and a clear lacquer top coat.
Hardware
Window hardware comes in eight appealing colors: White, Bronze, Champagne, Polished Chrome, Brushed Chrome, Oil-Rubbed Bronze, Polished Brass, and Antique Brass.
Divided Lites – (Grilles/Grids)
JELD-WEN'S intriguing divided lite options can add architectural interest to any home. These options include simulated divided lites (SDL) for an authentic appearance, full-surround wood grilles (FS) that can be removed for easy cleaning, and maintenance-free grilles between the glass (GBG). You may also choose one of many grille patterns, from traditional grids to Gothic-inspired designs.
Low Emissivity (Low-E) Insulating Glass is Standard
Windows and patio doors with Low-E glass feature a special coating that blocks 84% of harmful UV rays and delivers a 96% improvement in performance on cold nights. Low-E with Argon offers even greater protection from the elements, because the Argon sealed between the two panes of glass acts as added insulation.
Energy Star®
Dedicated to crafting energy efficient windows, JELD-WEN® is pleased to offer you glass options that allow your wood windows to meet the most stringent ENERGY STAR requirements. This means you will enjoy decreased home energy costs. JELD-WEN® is honored to be an ENERGY STAR partner.
Introducing: The Jeld-wen Collection of Wood Windows
The Jeld-wen® Custom Wood Windows and Patio Doors Collection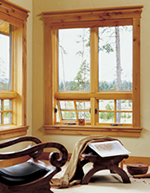 Each window is fashioned with remarkable care, whether it's a standard design or a custom creation for light commercial purposes. In fact, commercial architects have counted on the Custom Collection for years, because it offers large-scale sizes, plenty of design options, and tools like elevations and detailed CAD drawings. You can rely on every Custom Collection wood window and patio door to be distinctive, well-crafted, energy efficient, and of course, worry-free.
The Jeld-wen® Premium Wood Windows and Patio Doors Collection
These windows are an upgrade from standard windows because they feature more wood in the frame and the sash for increased visual appeal. The additional wood content also enhances structural strength and produces a higher design pressure (DP) rating.
You'll notice dedication to craftsmanship in every JELD-WEN® Premium wood window and patio door. The Premium Collection features Low E2 glass and tough weatherstripping to guard you from the elements. In addition, the collection offers a host of shapes, sizes, interior and exterior finishes, and grille patterns, so you can enjoy nearly any look you'd like.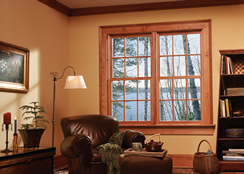 The rich warmth of wood combined with exceptional craftsmanship makes a winning, energy efficient combination for homes of every description. Choose JELD-WEN® Premium Collection wood or clad-wood windows and know that you've invested well–not only have you added long-lasting beauty and performance to your home, you've added value.
The Jeld-wen® Builders Clad-Wood Windows Collection
Builders Clad-Wood windows deliver unrivaled performance at a great value. In fact, they are made with Auralast wood for long lasting durability, which is supported by JELD-WEN'S industry-leading 20-year warranty. All Builders Clad-Wood windows include an integral nailing fin for additional strength and stability and faster, easier installations with a more secure attachment. Low-maintenance, white or desert sand Aluminum Cladding comes standard on this wood window's frame and sash for weatherability. High performance, Argon-filled Low-E Insulating Glass is standard. Factory applied jamb extensions are available as well as many divided lite (grille) options in standard patterns.