The Siding Department of Omaha Door & Window Co., is proud to present 40 ft.
INFINITY Seamless Vinyl Siding
for an attractive seamless look. See why INFINITY Seamless Vinyl Siding will protect your home for a lifetime.
Omaha Door & Window also offers the CLEAR WATER Gutter Protection System. Find out how this effective gutter guard attaches securely to your existing gutters and acts as a permanent protection. CLEAR HEAT, a Gutter Heating System available exclusively through ODW, is designed to keep your gutters free of ice and snow buildup.
INFINITY SEAMLESS VINYL SIDING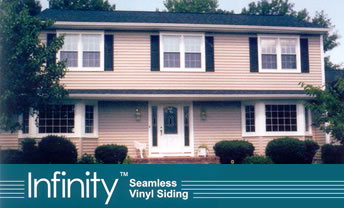 Why Seamless?
All vinyl siding provides durability and easy care maintenance. But that doesn't mean all vinyl siding is alike.
You'll find differences in panel thickness, surface finish, and profile details. But the major difference – and the easiest to see – is found when you look at a long, seamless section of wall.
Ordinary vinyl siding must be overlapped every 12 feet. And even with a professional installation, the resulting pattern of staggered seams produces a less than optimum appearance (see below example picture to the left). Plus, when seen up close, the "steps" created by overlapping interrupt the impression of a continuous surface.
INFINITY offers more than just another vinyl siding product. The difference starts with length. (See above example picture to the right). Infinity Seamless Vinyl Siding is 40 feet in length, more than three times the length of ordinary sidings. That means, on most homes and professional offices, our siding produces seamless exterior walls. It is easy to see the difference because the result is showcase beauty.
No overlaps. No visible seam patterns to detract from overall appearance. Just clean unbroken lines that accentuate architectural design and details.
A complete line of decorative accessories are available that allows you to highlight accent areas.
The Infinity Seamless Vinyl Siding panel is .050" thick which is 20% thicker than conventional siding. It comes in a double 4" profile with a brush stroke finish to simulate real painted wood, in 9 of the most popular colors. The INFINITY 40' panel eliminates all the installation challenges associated with conventional siding.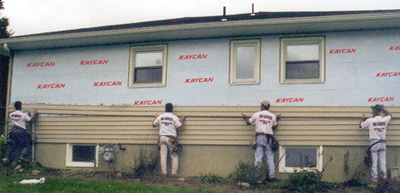 INFINITY 40' Siding is anchored to your home with the patented "Sure Grip Clip System", allowing for expansion and contraction without the possibility of an installation flaw. The sure grip clip is the greatest technological advancement for hanging siding in decades. It will keep your siding securely fastened compared to other nailed panels which can blow off. The clip is what makes 40' ft lengths possible.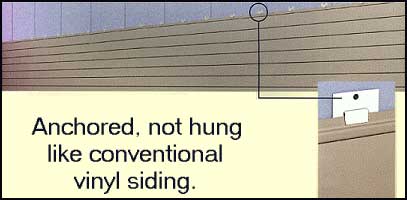 Infinity Seamless Vinyl Features and Benefits:
Compound Color-through process never needs painting
Will not dent, peel, rust, flake or corrode
Safer, no grounding required
Cost-effective: virtually maintenance-free cladding system
Highly durable vinyl siding that exceeds industry impact standards by an average of 198 percent
Exclusive lifetime, non-prorated warranty to original owner
One time 50-year prorated limited warranty for transferees

Infinity Colors: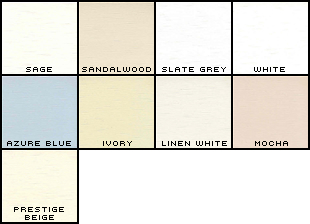 * Color chips on-screen may not be an exact match to the actual product.
Year after year, season after season, Infinity Seamless Vinyl Siding performs like no other. Infinity Seamless Vinyl Siding protects the hard-earned investment you've made in your home. Covering your home with Infinity Seamless Vinyl Siding can increase its market value.
Infinity Seamless Vinyl Siding resists denting. Your home is protected from day-to-day punishment. Unexpected impacts won't cause your siding to chip, peel or flake. Unlike painted or coated products, the color in Infinity Seamless Vinyl Siding is solid throughout the product.
Infinity Puts Its Siding To The Test
But INFINITY doesn't stop there. INFINITY puts its siding through a rigid battery of tests, to make sure it will perform where it counts the most, on your home. In fact, most other vinyl siding manufacturers don't put their products through these grueling tests:
The Impact Test
| | |
| --- | --- |
| | The impact test is first performed at 73°F (23°C). Then, the siding is frozen to 32°F (0°C) to simulate harsh weather conditions, and a second impact test is performed. The result is a vinyl siding product that exceeds the ASTM industry impact standards by an average of 198 percent. |

The Shear Test
| | |
| --- | --- |
| To ensure your siding withstands the test of time, theshear test is performed. Both the shears and siding are frozen to 14°F (-10°C). Then the siding is cut into sections. The purpose of this test is to ensure the vinyl siding maintains its rigidity under the most severe weather conditions. | |

The Flex Test
The flex test bends the siding almost 180° to ensure you get a tougher, longer-lasting siding. What's even more striking about this test, is that it is performed at 32°F (0°C) to ensure the siding maintains its structural integrity under the harshest weather conditions.
If Infinity Seamless Vinyl Siding can pass the extremes of these three tests, imagine how well it will perform on your home. Year after year, season after season, solid Infinity Seamless Vinyl Siding stands the test of time.