LiftMaster 8355W – With-Wi-Fi Belt Drive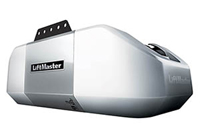 Features:
1/2 HP motor with Formula I belt drive and Motor Vibration Isolation for quiet operation.
Lifetime limited warranty on motor and belt.
1-Year limited warranty on all parts and radio controls.
Security+2.0 Remote Control – Rolling code technology that prevents unauthorized entry by changing the radio code each time the door is used.
893 Max 3-button transmitter.
882LMW Multi-Function Control panel enables you to turn lights on and off from inside the garage.
Dual lights with lens covers.
Manufactured with built in MyQ technology with Wi-Fi, which enables secure monitoring and control of your garage door opener with a smart phone, tablet, or computer. See MyQ accessories below.
Accessories (Click image to learn more)