Genie Belt Drive 3024 Intelli G-1000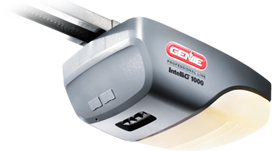 Features:
3/4 HPc DC-motor with fiber-reinforced belt-drive system is Genie's quietest garage door opener OR 3/4 HPc DC-motor with Rugged full-chain and one-piece solid T-rail for lasting performance
Lifetime limited warranty on motor and gear box.
15 Year limited warranty on belt.
5 Year limited warranty on all parts and radio controls.
1 Year limited warranty on accessories.
Intellicode 2 security system prevents unauthorized entry by changing the radio code each time the door is used from billions of possible combinations.
3-button transmitter
Three Function Deluxe Wall Console standard.
(2) 100 watt bulb lighting system provides added convenience and safety.
The powerful yet quiet 3/4 HPc DC motor operates almost any residential door.
HPc designates that this motor is comparable to Genie lifting force specification for -3/4 Hp garage door openers.
Soft start and stop prevents damage to garage door.
Accessories (Click image to learn more)