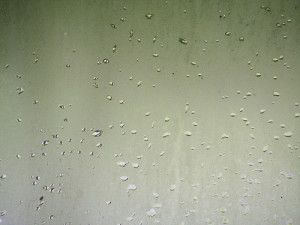 Here at Omaha Door & Window we work hard to make sure our customers are completely satisfied with the products and service we provide.
We go through great lengths to make sure everything we do is of the highest quality possible. With years of experience under our belts, our staff of over 85 professionals is ready to provide you with the service you need – even in emergency situations.
Today, we are going to highlight one of those services: Repairing a foggy window. As summer begins to heat up and humidity starts to build here in the Midwest, some homeowners will start to notice that their windows are fogging up, not just on the outside or inside of the home, but in between the panes of glass.
The Culprit.
The most common culprit of foggy windows is poor sealing, which develops as the window ages. Though this can occur throughout the home, the side of the home that receives a significant amount of sunlight will tend to be the first to show signs of fogging.
So What Keeps Windows from Fogging?
Insulated windows often contain inert gasses such as argon or krypton, which help with insulation. When brand new, the airtight seal on these windows combined with the low emissivity (low-E) coating, such as silver oxide, keep the gases in and help to properly insulate your home.
However, as time goes on, the elements (heat from the sun, extreme cold, or water damage due to heavy rain and snow) will cause the seal to break down allowing for moisture to seep into the panels, resulting in fogging.
The Solution.
There are several options when it comes to repairing a foggy window. Here are some to consider:
Check the warranty. Before you begin looking into repairing or replacing your windows, take a look at your warranty and see what they can offer. Most, if not all manufacturers will offer a warranty to back the quality of their product, some lasting upwards of ten to twenty years. If your warranty covers the replacement of your windows then you will be able to save yourself a lot of trouble and money for repair.
Defogging. Technology now allows us to defog windows at a fraction of the cost it takes to replace the window. The most common procedure requires a small hole to be drilled into the window, which then allows for the moisture to be extracted and washed on the inside. But the problem with this method is that you lose insulation between the glass.
Glass replacement. Multipane windows can be a hassle to replace. If the culprit of a foggy window is obvious (a cracked pane), the glass can be replaced, which is much cheaper than replacing the whole unit.
Full replacement. If the window is beyond repair or the cost of repair rivals that of a replacement, then perhaps it is time to consider a full window replacement. When shopping around please sure to look at manufacturer warranties as well as the specifications of each window to guarantee that you are getting the quality window you desire.
Omaha Door & Window offers installation of glass or full unit, and our glass is guaranteed for a lifetime. So if you are having trouble with a foggy window, don't hesitate to call Omaha Door & Window today at 402.733.6440.
If you have any questions or would like to know more about our other services, or have a question about a possible window replacement, please don't hesitate to reach out to us via our website's Contact Us page. We'd love to help out! We're also available on Facebook and on Twitter @OmahaDoor.
—
photo credit: water & light for texture via photopin (license)